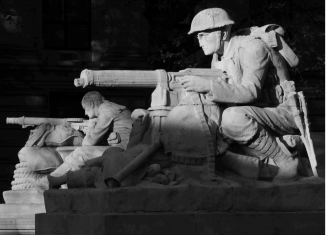 Mention the Portsmouth War Memorial, and most people will immediately think, incorrectly, of the imposing Royal Naval monument on Southsea Common. Portsmouth's civic memorial to the dead of the 1914-18 war from all services, raised by and for the people, is the fine creation in Guildhall Square, Grade II* listed but imprisoned by all the surrounding commercial and municipal activity. It is an underrated and exemplary work of its kind with a history that should be available to the city population. Search for any information about it, and the designer of the statuary Charles Sargeant Jagger soon crops up – but there it stops, there is seldom more than his name given.
Written specifically for the centenary of the 1918 Armistice, 'Charles Sargeant Jagger and the Portsmouth War Memorial' brings together in one place three stands of a tale that can be otherwise difficult to find; the history of the memorial as a project and how it mirrored national and regional events, the life and war experience of Jagger and its strongly autobiographical presence in the statuary designs, and the more recent history of Guildhall Square – and why the memorial looks like it does today.
It is hoped that the article will be a useful reference, and of interest to anyone who studies either the heritage and history of Portsmouth, or the Great War, as well as providing food for thought for the approaching anniversary, and the future of the memorial itself. For the Society members who attended Ben Cracknell's tour of the Guildhall area, this is the full story of the memorial in which we lingered long. The article contains some period photographs that will be new to all – but please note the copyright restriction, they are published by kind permission of Portsmouth History Centre.