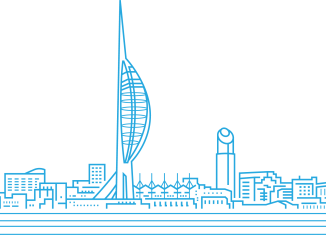 The Portsmouth Society Design Awards began in 1983 to mark our first ten years.  Our aim was to encourage good design – of buildings and landscaping – in the city, by recognising high quality contributions to the city's environment. Our first slogan was "To preserve the best of the old; to ensure the best of the new".
When we started in 1973 Portsmouth was undergoing radical surgery – in the form of comprehensive redevelopment when large areas were demolished in the 'second blitz' and large new roads were driven through the city fabric.  Conservation areas and general improvement areas followed.  The Society itself succeeded in saving some key buildings, such as the Theatre Royal, the Palace Cinema, the Beneficial School, Boathouse 4, Rivers Street Hall, St. Agatha's, St. Mary's House, St. Jude's Church…
Our criteria have always included positive feedback from the users.  Winning buildings or open spaces have to function well – as an essential element of good design.  Pzazz, buzz, sparkle – that special something that makes a building outstanding, while also contributing to, rather than damaging its neighbourhood are both also essential.  Each year offers a random set of new entries to judge – also reflecting the current state of the city economy.   In 1995 we considered adopting the slogan: "The Good, the Bad and The Ugly", but we realised that the News would only concentrate on the last category….
We started with three categories: Best New Building, Best Restoration and Best Landscaping.  In the last few years we added Best Reuse, because in some cases there has been a complete change of use.  Entries must also now include elements of sustainability, whether energy generation or conservation or other positive contributions to the local environment.
The judges are architects, builders or designers, with Society members and the president as recorder, chair and contributing photographer. Two days of intensive visits, discussions and assessment arranged by member David Baynes are always learning experiences, for those not familiar with Portsmouth and for the lay members to add to their knowledge of building technologies.
Once the winning entries are decided, their architects, designers and builders are invited to the Society's awards evening, where the judges explain their decisions and the winners are presented with blue ceramic plaques and certificates.  The members get a chance to see photographs of the entries and to comment on the judges' decisions.
Even before we had awards, we celebrated the restoration of Portland Terrace and Thomas Owen's Southsea in European Architectural Heritage Year 1975.  In the same year our Trees and Streets Committee counted all the city's street trees and planted new ones.  Greening school grounds including St. Judes School and new playgrounds such as Somerstown Adventure Playground have always been important to us, and so are the excellent new schools designed by the county and city architects: Mary Rose School, Admiral Lord Nelson School, Wimborne Infants School, Stamshaw First School, Portsmouth Grammar School.  The city council's architects won awards for their new council housing for many years – in Portsea and Landport.  Eastney Barracks, Spitbank Fort and the Hot Walls Studios are some of the ex-military sites we've given awards to.  Highbury College and the University have also been winners, not least for the Frewin Library – overall long term winner of our best new building award.  The new church hall designed by Tim Sage inside the Church of the Holy Spirit in Fawcett Road won our Best Reuse Winner in 2011.  The Friary in Marmion Road, Thomas Ellis Owen's workers' housing won our Best Restoration Award in 2008.  Individual houses: Flint Lodge in Stanley Street restored by Steve Smith and Steve Langton and No. 5 Grove Road South restored by Simon Bean won Best Restoration prizes in 2005 and 2012.
Look around you for our Blue Plaques – and if you see any new work you would like to suggest we consider in 2019, please get in touch!
Celia Clark
President, Portsmouth Society