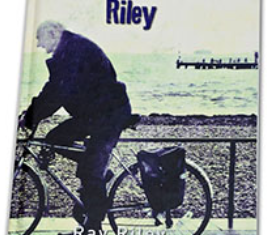 No one who has browsed the local history sections of our libraries or few remaining bookshops can have failed to notice the name of Ray Riley, and we would imagine that most of our members possess at least one of his many publications. He was amongst the most prodigious writers on the City of Portsmouth, a stalwart member of and perennial point of reference for all local societies in the spheres of history, geography, industrial archaeology and dockyard history, which he actively supported throughout his life. It is with great sadness that we relay his passing on 30th May after long illness. Ray taught the first classes of geographers at the Portsmouth College of Technology in the 1960s, and retired from academia when Professor of Geography at Portsmouth University. He authored 9 of the "Portsmouth Papers" series, was consulted on a great many more, and edited the Society's 'Maritime City' publication in 2005. He regularly gave fascinating, personal and humorous talks to the Portsmouth Society, and will be missed by all of that generation; his support for RSPB will be missed too.
Celia and Deane Clark share with us their memories of a lifelong association, his influence on them, and some insight into his wide sphere of expertise:
Deane Clark
I first met Ray in the early 1970s when I joined a local industrial archaeology class at Highbury College.  I was historic buildings architect in the city and we found we had many interests in common.  I loved his enthusiasm and tongue in cheek attitude.  Together with his friend Brian Sprunt, a photographer at Portsmouth Polytechnic, we set to locating all the main industrial archaeology sites and artefacts in situ, in particular at the quayside in the Camber, recording many different bollards (some upturned cannon) located on the edge.  He also helped me with the history of Eastney Pumping Station when I was restoring the beam engine and boiler house dated 1887.
We explored across the water, recording next to Fort Gilkicker remains of the small pier at Stokes Bay, including a small crane used for transferring military cargo.  We also went to the decaying Gosport Railway Station, surveying it, including its cast iron railings and the adjacent hexagonal letterbox. All our work was annotated and handed over to the city museum, and to our great disappointment, never seen again.  However, I was thrilled when his Portsmouth Paper on The Industrial Archaeology of the Portsmouth Region, No. 48 which included this work was published in 1987.
Our children remember him showing us Milton Locks – and sparking their interest in Portsmouth's history.
Ray was a member of the Southampton University Industrial Archaeology Group run by Edwin Course and Pam Moore.  We recorded the site of Henry Cort's iron foundry near Funtley and the adjacent house.
When the preliminary work for Portsmouth's North South Road was being undertaken he was very excited to find a working tripe processing factory off Commercial Road.  We also photographed the iron foundry in Clarendon Street Buckland, then still producing cast iron rainwater goods from recycled rescued iron parts.
After I went up to Hampshire County Council I lost professional contact with him, but I have always regarded him as a very special friend   Ray has contributed greatly to our understanding of industrial history, not least through his many Portsmouth Papers, particularly the way he built on the research of architectural students Stuart and Preedy, establishing the inhabitants' social background in  Thomas Owen's Southsea via the ratebooks, a painstaking task.
We will miss his humour.  He was a man of many parts.  Coming from Liverpool it's a shame he didn't see them triumph in Madrid in the European cup!
Celia Clark's memories of Ray are long and many sided: as an inspiring teacher, and lecturer, as the patient mentor for her research and as a long-term friend.  He is greatly missed!
As a young airman, he was stationed in Pembroke Dock, and his memories of his national service there are still important to the Naval Dockyards Society, of which he was a founder member and editor of its Transactions.
His first degree was in economics.  His first book was a study of the economy of the Benelux countries.  But his real love was industrial archaeology and history, to which he brought his geographical knowledge.
As Deane says, we first encountered him when he showed our family key historic industrial sites in the city, which helped us to learn about and love our home town.  He taught me the importance of fieldwork, which has been my practice ever since.
His Portsmouth Papers on The Growth of Southsea as a Naval Satellite and Victorian Resort, No. 16 (1972) provided the basis for the leaflet of Four Guided walks around Thomas Owen's Southsea I wrote with Barry Russell to celebrate European Architectural Heritage Year 1975.  He followed this up with The Houses and Inhabitants of Thomas Ellis Owen's Southsea, No. 32 published in 1980 using the rate books.  He had to trace the journeys by the individual rate collectors and take into account changes in the house numbers.
He taught me more in his entertaining lectures as part of the Diploma in English Local History at Portsmouth Polytechnic.  His Portsmouth Papers, of which he wrote more than any other author, are the go-to source for so many aspects of the city's history.  He was a life-long member of the Portsmouth Society, and gave us many entertaining lectures, delivered with characteristic wit and sparkle!  Editing was one of his skills.  We were delighted when he took on the editorship of the Portsmouth Society's book: Maritime City Portsmouth 1945-2005, brought out by Sutton Publishing in 2005, from which the Society benefits from every copy sold.  He wrote several chapters in the book himself: on conservation areas with John Pike, the continental ferry port, employment, and heritage and change since 1945 – a range which reflects the many aspects of his knowledge of the city.
Ray and I published 'Women at Work in Portsmouth Dockyard 1914-1919' in the Hampshire Industrial Archaeology Journal in spring 2014. The culmination of his long-term study of the development of Portsmouth dockyard was the magisterial book 20th Century Naval Dockyards: Devonport and Portsmouth Characterisation Report by members of the Naval Dockyard Society in 2015 which was commissioned by Historic England.
It was only with Ray's steady, long-term support, detailed advice and patient supervision that I finally finished my PhD about how much influence local communities have on the new land uses on historic ex-defence sites and whether they benefit from disposals.  When he moved to lecture at the university of Łόdź, he would comment and improve on the drafts I sent to him by fax!  He told me how much he relished being able to drive a steam train in Poland – a highlight of his time there.  In 1996 he was commissioned by the Polish government to survey country's historic steelworks and coalmines in Silesia.  This took two years; he was often impeded by minders blocking his camera, saying he should photograph more modern facilities!  His slide of a giant timber A-frame covered with brushwood was real teaser: what was it for?
The Geography of Defence published by Croom Helm in 1987as part of the annual conference of the Institute of British Geographers at Portsmouth Polytechnic and edited by Ray and Michael Bateman is a seminal work.  It examines, for the first time, the geographical impact of national defence, with Portsmouth as a central case study.  Ray's own paper: 'Military and Naval Land Use as a Determinant of Urban Development – the Case of Portsmouth' is a key inspiration to me as an academic who began to specialise in the physical, economic and social effects of national defence and in finding civilian futures for the forts, barracks, military lines and other defence heritage – as it came to be defined.  His analysis of the successive layers added to defend Portsmouth – and also of their release into civilian uses is masterly – and the source and inspiration of the book I am currently writing about what has happened to ex-defence sites around Portsmouth harbour in the last fifty years. It's not surprising that the Geography of Defence was been republished by Routledge in 2015 – at, as he pointed out – the vastly increased price of £113.30!
We shall miss his sharp and sparkling wit, his humanity and warmth immensely!