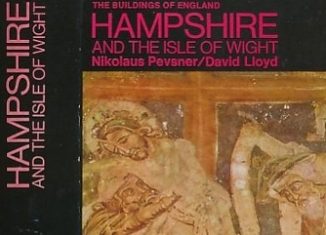 David Lloyd Architectural Historian, Scholar and Educator Extraordinaire
We are very sad to hear that David Lloyd has died at his home in Harlow aged 92. He was one of the few surviving authors to have collaborated with Sir Nikolaus Pevsner on the first editions of the magisterial Buildings of England series, documenting the country's built heritage, county by county. Pevsner and Lloyd's Hampshire and Isle of Wight volume was first published in 1967 for which David described Portsmouth and the surrounding places
We owe him so much. His scholarly research defined our urban landscape. His exciting and illuminating guided tours took us round towns and cities and taught us to see them in detail with informed eyes and architectural vocabulary. He enthused and inspired generations of students and locals with detailed knowledge about the architecture and history of the places where they live.
Deane enjoyed his company when they were visiting lecturers for Roger Williams College, Rhode Island based at West Dean College in Sussex. They conducted undergraduates of building conservation round many of the most important conservation projects of the day in Sussex and Hampshire. The programme was also based at Wroxton in Oxfordshire, co-ordinated by Charmian Lacey (later Shenton), Architect to the Royal Palaces. David had the habit of standing in the middle of the road, looking high up, rather than at the on-coming traffic…as he did for instance In Winchester. He often closed his eyes as he spoke, almost as if he was preaching, as he drew on his immense store of knowledge.
For us, his focus on Hampshire and the Isle of Wight and Portsmouth in particular, were revelations. As a member of the Portsmouth Society he took us on rapid tours round places far and near. We sometimes had to run to catch up with him! I remember one exploration of the area round Kings Cross with Deane's 90 year old father, where we had to beg him to take a breather in the station café. He deviated from his route across the City of London by mistake, but was just as eloquent about the new street he found himself in. He loved his place puns: "Superlooville", "in Sussex they Shoreham and Patcham, and in Wales they Wrexham…'; "No Woking class people in Woking"….
He was a part-time lecturer in Portsmouth Polytechnic in the Department of Architecture , mainly teaching students in the fifth year Urban Option.
"Whatever the students may have learnt from me, I have gained immensely greater insight into the urban environment of Portsmouth and its vicinity; its assets, its problems and its potentialities through my once (or twice) weekly visits to what is now one of the city's major institutions, and my contacts with staff and students."
David's book Buildings of Portsmouth and Its Environs A survey of the dockyard, defences, homes, churches, commercial, civic and public buildings published by the City of Portsmouth in January 1974 was our bible – and is now a historic document in its own right. He included
'what might be described as the 'city region' of Portsmouth, including the boroughs of Gosport, Fareham and Havant – relatively new as administrative areas but containing places with longer histories than Portsmouth itself – and a wide tract which is still, happily, rural, extending to the Meon Valley, over the Hampshire end of the South Downs, and along the West Sussex coastlands up to the edge of Chichester."
In his preface, he acknowledges that his inspiration came from Councillor Freddie Emery-Wallis.
"He wanted a new, comprehensive account of the architecture of the city and its hinterland which would supplement the many publications already on the subject, or aspects of it, including Alan Balfour's Portsmouth" [1970]
and David's own Hampshire and the Isle of Wight volume
'in which I wrote the descriptions of Portsmouth and surrounding places" … but my written account would have had little impact without the splendid series of photographs mostly taken by Ralph Court especially for the publication. I am of Southampton by birth and early upbringing. I sometimes feel that the two cities might be eighty, not eighteen miles apart (centre to centre), so different are they in their traditions, character and activities. Southampton was a great medieval port when Portsmouth was small; Portsmouth grew great as a naval base while Southampton slumbered; latterly Southampton has developed as a major civilian port while Portsmouth remains the home of the Royal Navy."
He was kind enough to give us copies of his books and to consult us on their content. Inside Historic Towns of Hampshire and Surrey published by Victor Gollancz in 1992 I found two notes which demonstrate his meticulous attention to detail and his acknowledgement of the part local amenity and civic societies have to play in keeping historic towns standing and in good order.
"Any comments welcome – however sharp – the more pertinent the better. (One printing error is easy to spot). Subjects of photos not ultimately my choice: Portsmouth badly under-represented; IW not at all! D.L"
The other, dated 11.11.91 reads:
"Dear Deane, Sorry to trouble you again, but I enclose a copy of the final version of the introduction to the paperback Hist. Towns of Hants and Surrey, principally to see if you are happy (or not too unhappy) about what I say at the end. Are there any other local societies I must mention – though only with the names of the towns concerned? What about those on the I. Wight?… There is infinitely more I could say!.."
Inside The Making of English Towns New Edition published by Gollancz in 1998 his note reads:
"Many thanks to Bob Adderley you and others for sending the new-style Newsletter, with its generous references to my contribution to the Hants "Pevsner'. (I didn't take all the 8 years to 2006 to rewrite the Isle of Wight!)
… Trying to sort out present state of Gunwharf, etc, making use of the comprehensive reports from the Portsmouth Socy! (Would love a detailed, accurate plan of Gunwharf as it is!!) Very best wishes, David. Have sent my subscription renewal"
We were very sad David wasn't present on 13 July 2006 at the launch of the separate Isle of Wight volume in Chamian Shenton's splendid Victorian house, Compton Undermount in Bonchurch, Ventnor. The revision had been estimated to take two years, but as David, like Pevsner, did not drive, it took eight – as he mentions above – often with Charmian at the wheel.
His last visit to Portsmouth was difficult. As he found walking hard, David Baynes hired a wheelchair, which was heavy to push. David Lloyd decided to confine his exploration to close around the city centre, but as we got back to the Norrish Central Library we were told "No wheelchairs allowed!" so he staggered to his feet, holding on to the rather flimsy barriers which detect people stealing books – which cracked. I said "Quick! Get him a chair!"
"People can't sit here in the entrance!". They saw sense and rushed one forward – which he fell into. "Get him a cup of tea!" "No, not allowed", but eventually the staff gave him one.
Once he was no longer able to travel from Harlow, members of the Society have been honoured to be asked to continue his work including Perambulations of Somerstown and Southsea and contributions about new buildings. We look forward to Charles O'Brien's new volume for South Hampshire with great anticipation!
Celia Clark
30 August 2017