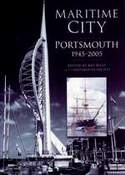 Maritime City – Portsmouth 1945 – 2005′
An inspirational view of Portsmouth's development since the second world war.
This book provides a fascinating record of the buildings and streets that have been lost forever by insensitive redevelopment but also looks at what is positive about the city today.
Portsmouth is essentially a maritime city but the changing nature of the Navy and the reduction in the number of ships moving in and out of the harbour has led to major changes in land use around the Harbour. There is now a major continental ferry port and the Gun Wharf ammunition depot has been transformed into one of the most imaginative retail, leisure and residential complexes in the country.
Many other changes have taken place elsewhere in the city: in housing, public buildings, transport systems, shops, factories and offices. Members of the Portsmouth Society have each covered a key area and have used a careful selection of old and new photographs, maps and plans to illustrate the key changes to the built environment of one of Britain's fastest-changing cities.
This book will appeal to all those who are interested in architecture and town planning and will also be a fascinating read for residents of the city and all those who know Portsmouth.
Contributors include: Ray Riley, Celia Clark, John Pike, Deane Clark, Roger James, Bruce Oliver, John Offord and Jane Smith.
The book is available at local retailers including WH Smith and Waterstones.
ISBN : 0-7509-4363-7
Publisher : Sutton Publishing
Price : £12.99