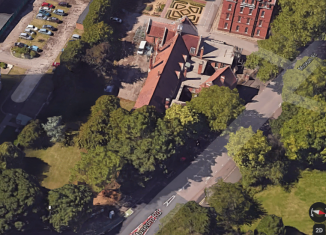 The council recently held a drop-in consultation for local residents, to get feedback on a somewhat loaded question: what kind of housing development would you like to see here when this fine period building is knocked down? It's been on the cards for some time, but is moving towards reality. The building in question has a long history, but its origin is not known precisely. There was a smaller building on this site soon after the opening of Clarence Barracks in 1897, and this was either extended or rebuilt within the next 10 years, pretty much the building we have today. It was the only building along with the Officers Quarters (now the City Museum) to have survived firstly the bombing of WW2, and then the demolition of the 1960s to make way for Pembroke Park. Before the military abandoned it, it was in use as the NAAFI building – its original function is not known. It became the City Records Office in the early 1970s, and believed vacant since that function moved into the Central Library. Subsidence is clearly visible in the short south wing, but apart from that, is its 'unsalvageable' tag simply the result of being left to fester for so long, or a convenient status reflecting the city's current housing shortage, and the declining number of traditional builders? It is a classic early Edwardian building, and it will become yet another to be lost forever.
Museum Road today is a pleasant green corridor thanks to its magnificent trees – the only such road in the area. The Office is in the grounds of the City Museum, and their joint estate is Museum Gardens, the Office being surrounded by trees to complement those of Ravelin Park, with lawn starching to Kings Terrace. Museum Road is changing fast; steelworks are now going up for the new University sports centre, and its bulk can now be visualised. The Rotunda has gone from Ravelin Park, and the landscaping will be very different once the constructor's compounds are vacated. But the trees along the road must stay – every last one of them. To demolish the Office, clear the gardens and build some multi-storey housing development does not feel like progress when other avenues and uses could be explored to preserve the feel of this highly visible plot, and avoid a harsh land-use boundary to the grade II listed main museum building.
The Old Portsmouth conservation area encompasses the museum, museum gardens and the records office. All contribute to the character and appearance of the area, so a case could be made that not all of the 3 requirements for demolition therein will be met.
Portsmouth is currently without a specialist Conservation Officer in the planning department, Ben Cracknell having moved on to pastures new, a great loss to the city.